Scholarships
An extensive list of funding options and opportunities - Click Here
Matthew Halton Scholarships 101 Booklet - Click Here
Rutherford Scholarship - Click Here
RE/MAX 2022 Quest for Excellence® Bursary
RE/MAX of Western Canada will award 16 bursaries of $1,000 each to qualifying Grade 12 students.  In addition, each award includes a Certificate of Excellence signed by the Regional Executive Vice President of RE/MAX of Western Canada. Winners will be notified in April 2022.
What is Required?
Students are to convey the contributions they have made to their communities in a short online essay, maximum 1,250 words. Key qualities students should demonstrate are leadership, motivation and communication skills.  Other attributes may include volunteering, participation in charitable events or fundraising, and contributions that enrich the lives of others and their communities.
Livingstone Range School Division Scholarships
Submit your completed application directly to your
High School Guidance Counsellor or Principal
Prior to May 20, 2021
Dr. Lloyd Cavers Scholarship - School-based Nomination, $200 for nominees and $1000 for the division winner

The purpose of this scholarship is to recognize the contributions made by a student leader in Livingstone Range School Division.  The recipient's leadership abilities will have had a positive impact, primarily at the school, but also in the wider community.  The student will be graduating from Grade 12 in his or her chosen program.
Livingstone Macleod Association Bursary Fund, $2000
ENMAX Environmental Leadership Scholarship, $1000
Nelson Scholarship Program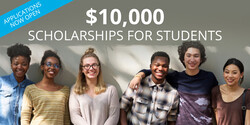 Do you know a Grade 12 student excelling in the classroom and making a difference in their community? Encourage them to apply for one of our $10,000 scholarship opportunities. Recipients of the awards are young leaders of tomorrow, showcasing a commitment to community stewardship and academic achievement. 

This year, we are once again offering two incredible opportunities for students, our Civic Leadership Scholarship and our Indigenous Student Scholarship, in partnership with Indspire.

To learn more about our scholarship program and how to apply, click the link below and be sure to share with your students. 

Applications close June 30
Crowsnest and Pincher Creek Landfill Scholarship
Local Scholarships
Pincher Creek Lions, $1000 - May 1 (please note that the application needs to be submitted to the local club in May)
Glen Keeley Memorial  $2000- Aug 1