Back to all posts
Posted on
Overnight Trip to Olds College for Discovery Day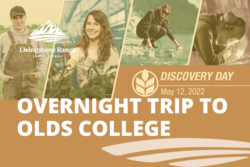 LRSD has been given the opportunity to bring up to 100 of our high school students to attend the Olds College Discovery Day event on Thursday May 12, 2022.
In addition to this full day of exploration, Olds College is providing students with an overnight stay in their own rooms (with a private attached bathroom), three meals, and evening activities (swimming at the Olds Aquatic Centre is a popular one!) on Wednesday May 11.
While Olds College is offering these events to us for free, there is a modest cost to offset our transportation fees. Registration forms and information are available from each school's Career Practitioner. 
Seats are filling up quickly!