Back to all posts
Posted on
Proposed Name for Crowsnest Pass Site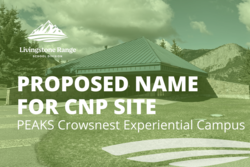 The Livingstone Range School Division Board of Trustees has approved in principle the name "PEAKS Crowsnest Experiential Campus" for the Division's Crowsnest Pass educational site. The approval was made at a special Board meeting on March 29, 2022.
The proposed name grew out of stakeholder feedback and combined elements of different suggested names from staff, students, parents, and members of the community. In accordance with LRSD Administrative Procedure 541, the name for a new school or educational facility should identify the community and programming of the site and may also reflect the environmental landscape or local culture. The name "PEAKS Crowsnest Experiential Campus" meets these criteria in descriptive and positive ways.
Members of the public have the opportunity to provide feedback on the proposed name prior to the Trustees' final approval at a special virtual Board meeting on May 2, 2022. Questions or comments may be shared until April 30 and directed to Karly Bond, Coordinator of Communications, Culture, and Engagement by email to bondk@lrsd.ab.ca or by mail to LRSD Division Office, PO Box 1810, 410 20 Street, Fort Macleod AB, T0L 0Z0.