Back to all posts
Posted on
Holly Stewart Named LRSD Clinical Team Lead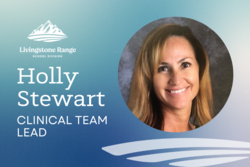 Livingstone Range School Division is pleased to announce that Holly Stewart has been named Clinical Team Lead for Livingstone Range School Division, overseeing Family School Liaison Counselors and promoting mental health and wellness for students in our jurisdiction. 
Holly holds a Bachelor of Arts degree in Psychology from the University of Lethbridge and a Master of Arts degree in Psychology from Yorkville University. Holly is a Registered Provisional Psychologist with the College of Alberta Psychologists and has worked as a Family School Liaison Counsellor for LRSD since 2010.
"We are very excited to have Holly join our Learning Services team in the role of Clinical Team Lead," says Richard Feller, Associate Superintendent of Learning Services/HR. "Holly brings a great deal of expertise and experience in developing supports for students. Her student-first approach and relationship focus will continue to build on the strength of our division and the capacity of the team she leads."
Holly believes strongly in meeting the diverse needs of students and creating a positive school culture through collaborative, student-centered practices that focus on inclusion, safety and belonging. "The vision 'Every student, every day' is a statement I have come to promote and recite often in my practice; it is meaningful and impactful," says Holly. "I'm excited to take on the Clinical Team Lead role; to continue to challenge myself in this field of education, mental health and well-being; and am extremely excited and looking forward to the opportunities ahead."
A lover of the outdoors, wildlife, and natural spaces, Holly enjoys spending time with her son, her animals, her family, and people close to her. Hanging out at the water with her dog or hiking through forests are favorite pastimes, and she feels very blessed to live in southern Alberta, where the opportunities for outdoor exploration are endless.
Congratulations to Holly on her new role!