Back to all posts
Posted on
Provincial Day of Mourning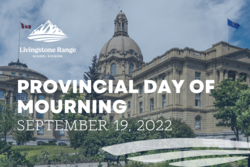 Alberta has declared Monday, September 19 a provincial day of mourning in solemn recognition of Her late Majesty Queen Elizabeth II. There will be regular classes held on this day.
The Minister of Education, Adriana LaGrange, has shared the following as it relates to the day of mourning and schools:
"Schools are encouraged to offer opportunities for students to take part in the day of mourning. School authorities may also consider allowing students to participate in an outdoor ceremony at the Alberta legislature at 10:00 a.m. on September 19, the day of her funeral in London. The ceremony will be live-streamed for students who are not able to attend in-person. Additional details on the ceremony are available https://www.alberta.ca/queen-elizabeth-memorial-services.aspx.
"Other ways for schools to commemorate the passing of Her late Majesty could include observing a moment of silence or discussing Her late Majesty in the classroom, her life and public service, and what students will remember about her."
Schools and classes in Livingstone Range School Division will offer students opportunities to recognize this provincial day of mourning as part of the school day.