Back to all posts
Posted on
Winter Break Extended to January 10, 2022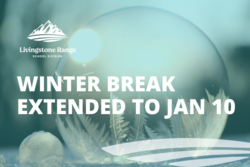 Letter from Livingstone Range School Division Superintendent Darryl Seguin.
On December 30, Alberta Education announced that winter break for Alberta Kindergarten to Grade 12 students is extended until January 10, 2022, and that diploma examinations for high school students are cancelled given the disruption in learning caused by this extension. The extension of winter break means that in-person learning will not resume until January 10, 2022. 
Education Minister Adriana LaGrange said that "the extended break will give school authorities time to gather additional data to assess staffing implications and the potential operational impacts of the current COVID-19 situation." The Minister committed to providing an update regarding the January 10th scenario at some point late next week.
As a school system, we are committed to preparing for whatever the return to school looks like for January 10th. I will keep you informed as we navigate this challenge.
The full press release for this announcement can be found at Winter break extended for K-12 students | alberta.ca
Sincerely,
Darryl Seguin
Superintendent