Back to all posts
Posted on
Vaccination or Negative COVID Test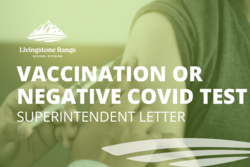 With the recent announcement on October 5, 2021, from Alberta Education Minister LaGrange and Health Minister Copping we understand that some have concerns regarding proof of vaccination or negative COVID-19 testing for adults in school settings. Livingstone Range School Division is currently gathering information to shape our direction on this matter.
With local trustee elections held earlier this week, the new Board of Trustees will hold meetings this Monday and Tuesday which will involve a Board Orientation as well as elections for the positions of Board Chair, Vice-Chair, and representatives to serve on the various Board Committees for the next two years. As staff vaccination or proof of negative COVID test results is a complex topic, a special board meeting at a later date will occur to further explore the information gathered and gain a better understanding of both our legislated statutory obligations and any personnel and operational impacts. 
We appreciate our stakeholders understanding that these decisions are multifaceted and time is necessary to consider what is best for Livingstone Range School Division. 
We greatly appreciate the cooperation of students, parents, and staff for their strong adherence to following AHS guidelines regarding masking, distancing, and staying home when sick. The Division strongly encourages staff to continue taking all steps available to them to protect the safety of students and each other.
Sincerely,
Darryl Seguin
Superintendent