Back to all posts
Posted on
Update: COVID-19 Safety Measures in LRSD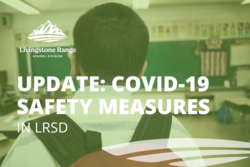 After much consideration, Livingstone Range School Division will continue with our current COVID-19 safety measures. The Board of Trustees and Senior Administration met on September 7 and had a thorough discussion about the COVID-19 situation and the provincial government's temporary measures announced September 3. Taking into account guidance for schools from the Chief Medical Officer of Health (Dr. Deena Hinshaw), as well as feedback from parents, school administrators, and staff, the Board has determined to make no changes to our approach at this time.
"We understand that this is a very sensitive situation, with strong feelings and opinions on all sides of the issue," says Board Chair, Lori Hodges. "As a Board of Trustees, we care deeply about making decisions in the best interest of our students and staff. We believe that for now, the right course is to rely on Dr. Hinshaw's expertise, including the importance of vaccinations."
Our 2021-2022 School Year Plan remains in place at this time. However, as the situation evolves we will continue to monitor and adjust for any further guidance/changes from Alberta's Chief Medical Officer of Health. 
What this means in LRSD:
Student and staff mask use continues to be voluntary. We encourage and support those families and staff wishing to wear a mask.
All visitors, including parents, must wear a mask while in the school. 
Indoor school-wide events such as assemblies where social distancing is not possible are postponed. Outdoor events may continue. 
For extracurricular spectators, masking is strongly recommended, but not mandated.
Masks are mandatory at Division Office except in individual work stations.
As always, school administrators will continue to monitor attendance daily. If there are absences 10% or greater due to illness, the principal will report that to Alberta Health Services, which may recommend additional measures.
Routine best practices to reduce the risk of transmission of COVID-19 and other respiratory illnesses will continue to include: 
Promoting and facilitating hand hygiene and respiratory etiquette. 
Enhanced cleaning and disinfection of high-touch surfaces. 
Staying home when sick. Students, visitors and staff will be expected to use the Alberta Health Daily Checklist to determine if they should attend or stay home. 
Maintaining and monitoring HVAC systems in accordance with manufacturer guidelines and encouraging teachers to open windows and take learning outside when possible. 
Encouraging administrators to review their classroom set-ups and try to maximize physical distancing as much as reasonably possible. 
For more information about LRSD's COVID-19 response, visit the Division website. The Board of Trustees thanks parents and staff for your ongoing dialogue in these important matters.