Back to all posts
Posted on
Support Network Fair at MHHS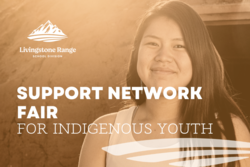 I graduated! Now what?
Indigenous students in grades 9 to 12, as well as recent high-school graduates, are invited to explore options for transitioning from high school to the world of work at Matthew Halton High School's support  network fair.
Friday, March 24, 2023
9:30am-12:30pm
Matthew Halton High School, 945 Davidson Ave, Pincher Creek
Event activities will include keynote speakers who will share career success stories and advice, as well as time for students to network with organizations and learn about the various programs and opportunities that exist to support career goals. Representatives from a variety of career support agencies and post-secondary institutions will be in attendance to talk with students.
For more information or to register, email whitfordb@lrsd.ab.ca.