Back to all posts
Posted on
Share Your Thoughts About Successes We Should Continue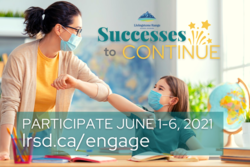 No doubt about it: the 2020-2021 school year has been challenging. Adjusting to school during a pandemic with masks, social distancing, quarantine, and periods of at-home learning has been hard. But our amazing staff, students, and families have met these challenges with creativity and perseverance! Just as there have been rough spots, there have also been amazing opportunities for growth, connection, and innovation.
"We want to hear what's been successful this year," says Lori Hodges, Chair of the Board of Trustees. "We can learn from it and keep the best parts of our experience as we move forward into the 2021-2022 school year."
Share your thoughts, experiences, and feelings about the great things from this school year in our online Thoughtexchange, open from June 1 to 6. Anonymously share your ideas, rate the thoughts of others without bias, then discover what is truly important to our school division community. We will use your feedback to celebrate this year and to plan for next year.
Consider this question and then participate: Reflecting on this challenging school year during the COVID-19 pandemic and planning for next year, what successes have you seen in our schools that we should seek to continue?
For those who would prefer to participate offline, contact the school for a paper-and-pen version.