Back to all posts
Posted on
Bryan Burns Named Principal of Matthew Halton HS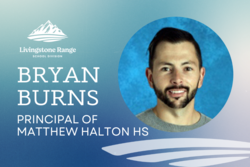 Livingstone Range School Division is pleased to announce that Bryan Burns has been named Principal of Matthew Halton High School in Pincher Creek beginning in the 2023-2024 school year. 
"We are very excited to have Bryan move into the role of principal of Matthew Halton High School," says Richard Feller, Associate Superintendent of Human & Learning Services. "Bryan is an excellent leader who has a commitment to student-centered programming and decision-making. This commitment, along with his collaborative approach, will continue to support the students, staff, and community of Pincher Creek". 
Bryan, Assistant Principal of MHHS since September 2020, holds an Honours Bachelor of Arts and Honours Bachelor of Education from Lakehead University in Thunder Bay Ontario. He has worked as a Learning Support teacher, junior and senior high teacher, Outreach teacher, and professional development chair. He has successfully completed Livingstone Range School Division's "Inspiring Leadership" course and sits on many committees within the Division.
"It is a great privilege to accept the role of Principal at Matthew Halton," says Bryan. "Over the past few years as the Assistant Principal, I have enjoyed the opportunity to work with great students, staff, parents, and community partners. Having the ability to help students take chances in pursuing their goals within a caring, flexible, and welcoming school environment is the best part of working at MHHS. Good things will continue happening at Halton!"
When he's not at school, Bryan enjoys hosting local trivia nights, playing any and all sports, spending time and hiking with his wife, and taking long walks at the dog park with his beyond-energetic border collie, Tucker. 
Congratulations to Bryan on his new leadership role at Matthew Halton High School.