Back to all posts
Posted on
Bryan Burns Named Assistant Principal at MHHS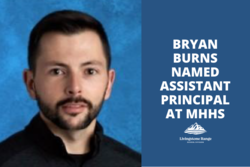 Livingstone Range School Division is pleased to announce that Bryan Burns has been named Assistant Principal of Matthew Halton High School (MHHS) in Pincher Creek. Bryan has been Acting Assistant Principal since September 2020, working with Principal Greg Freer.
"Bryan's leadership at MHHS contributes to collaboration and success for both staff and students," says Associate Superintendent Richard Feller. "His experience combined with a passion for education and innovation make him ideally suited for this role."
Bryan, a teacher at MMHS since 2015, holds an Honours Bachelor of Arts and Honours Bachelor of Education from Lakehead University in Thunder Bay Ontario. He has worked as a Learning Support teacher, junior and senior high teacher, Outreach teacher, and professional development chair. Bryan was responsible for bringing the first Hockey Canada Skills Academy to the Division and currently runs the program. He recently successfully completed Livingstone Range School Division's "Inspiring Leadership" course.
"I am excited to continue as the Assistant Principal at Matthew Halton," says Bryan. "Our school has a great sense of connection with the community and I look forward to seeing that further evolve. This past year has been difficult for students, parents and staff however we have adapted and the flexibility of our stakeholders has kept student learning and well-being at Halton a priority. Good things are ahead!"
Congratulations to Bryan on his leadership role at Matthew Halton High School.