Back to all posts
Posted on
AHS Student Social Gatherings Advisory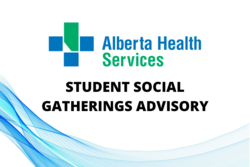 Two Medical Officers of Health from the AHS South Zone have issued an advisory regarding student social gatherings and the potential for COVID-19 transmission from social gatherings. 
AHS asks that public health measures be strictly followed, including:
Limiting of all indoor social event to no more than 50 people and outdoor events with no seating to 100 people
Performing proper hand hygiene
Staying home when sick
Adhering to physical distancing requirements
Using non-medical face masks
Please share this important information with students, staff, and families. By implementing these measures we can all do our part to make social gatherings safer.
Read the full Advisory here:
AHS Advisory: Social Gatherings Involving Students, November 3, 2020