Back to all posts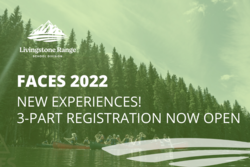 New for 2022, the FACES summer education program features new curriculum and credit opportunities, new registration process, and new experiences. This experiential education includes a carefully crafted Personal Adventure and an exciting and challenging 6-day in-person Wilderness Adventure. All sessions occur at our new Crowsnest Pass site.
Grade 9, 10, & 11 students, are you ready for FACES 2022? Registration is in 3 parts:
Part 1: Create Registration Account | Input information ahead of time in preparation for registration. When?
March 10 - Returning students (FACES Journey)

March 11 - New participants (FACES Challenge)
Part 2: Create Payment Account | When?
3 days after you create a registration account.
Part 3: Session Selection and Payment | Use links sent to you after completing Part 1. Choose your dates & make payment. When?
March 21 - LRSD returning students

March 28 - All other returning students

April 4 - LRSD new participants

April 11 - All other new participants
Register now at faceseducation.com.
Click to download the FACES 2022 information flyer.