Back to all posts
Posted on
Seeking Public Audit Committee Members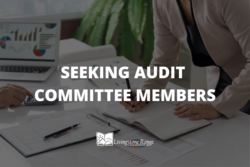 The Livingstone Range School Division Board of Trustees is seeking two (2) members at large to serve on its Audit Committee. 
The purpose of the audit committee is to assist the Board and the Superintendent in fulfilling their oversight responsibilities for the financial reporting process, the system of internal control over financial reporting, the audit process (including Public Sector Accounting Standards (PSAS) compliance), and monitoring the Division's compliance with laws and regulations pertaining to the financial operations. The Audit Committee meets two or three times per year, with authority to convene additional meetings, as circumstances require.
The committee is seeking two members of the business and adult learning community, who are independent to the Division, have no relationship to the audit firm and preferably, who are financially literate.
Please see the full membership criteria, terms of reference, and remuneration for public members below.
Interested parties should submit a resume or experience portfolio to Jeff Perry, Associate Superintendent, Business Services The audit committee will review and choose public members taking into account experience and background.
Applications will be accepted until May 15, or until a suitable candidate is found.
For further information please contact Jeff Perry at perryj@lrsd.ab.ca or 403-625-3356.
___________________________
Membership Criteria
Ideally, public members on this committee will be a member of the business community or the adult learning community and will come with financial and/or business knowledge.
Committee members should be well regarded in their communities, have senior status in their profession and, as a group, have:
financial literacy, meaning the ability to read and understand complex financial statements and accounting issues
a strong understanding of governance
an understanding of the public sector decision making process and accountability framework, including the unique role of this Committee
independence, including an unbiased perspective on the matters brought before the Committee and a guarantee that their employment or involvement in other activities will not place them in a conflict of interest position
effective communication skills
strong support for ethics
senior-level experience addressing strategic and conceptual issues
Full Audit Committee Terms of Reference: Appendix A (Board Policy 9) 
Remuneration: Appendix C (Board Policy 8) Clauses 2, 3, 5