Back to all posts
Posted on
Carry On With Education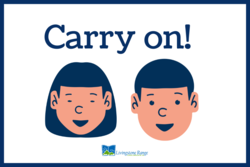 When classes were cancelled on March 15 due to the COVID-19 pandemic, we didn't know what education would look like going forward.
Now, at the end of the second week of blended learning, it's beginning to take shape.
As outlined in Superintendent Darryl Seguin's letter to parents, LRSD's Education Continuity Plan means learning will continue through a blend of online and offline experiences. Teachers' lessons for student work will mainly focus on the essential curricular based outcomes broken down by division:
Division 1: Kindergarten-Grade 3 will focus on literacy and numeracy
Division 2: Grades 4-6 will focus on literacy and numeracy and will extend to include science and social studies
Division 3: Grades 7-9 will focus on literacy and numeracy and will extend to all core subjects
Division 4: Grades 10-12 will focus on core subjects
It's important that we carry on with education so that students continue to progress and we maintain routines for our wellbeing.
If your child has not yet logged in and started working on their schoolwork, we encourage you to help them do so now. Start by reviewing any specific information sent by email to parents and students, or posted on our school's website. Or call the school and ask how to get your child set up with their classes.
We can help your family access the schoolwork and resources you need to be successful. Talk to us today.