Back to all posts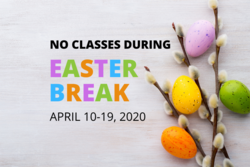 Easter break begins this week, with no classes for teachers or students from Friday, April 10 until Sunday, April 19. Online and blended programming will resume for everyone on Monday, April 20. 
It may seem strange to take a week off from classes in April when things have already been so different since classes were cancelled across Alberta on March 15. However, this time will be an important opportunity for everyone to recharge after the disruption of the last several weeks.
Parents have been more responsible for ensuring at-home learning is happening, and that may be challenging as some children resist engaging in school work.
For students, it's tough not being at school to socialize with friends and have the staff close by to answer questions.
For many teachers this has required changes to their units, lesson delivery, assessment practices, and even their comfort level with technology.
All of this combined with other concerns like personal health, social distancing, and potential job loss for family members has been a lot over the past few weeks.
We hope that Easter break gives you the opportunity to take care of yourselves and your loved ones. We encourage you to focus on physical, mental, and emotional wellbeing as well as gratitude for the truly important things in life. Take a well-deserved break and be ready for at-home learning to resume April 20.
---
If you find Easter break challenging, please visit our Resources page for support and reach out to a trusted family member or friend.